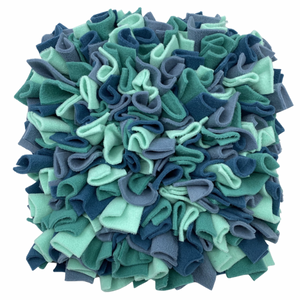 Our handmade Snuffle Mats provide enrichment and mental stimulation by tapping into your dog's natural inclination to sniff sniff sniff. Sprinkle kibble or hard crunchy treats into your mat and watch your dog sniffle and snuffle to search for and retrieve the goodies!
Mats are handmade using high quality, anti-pill fleece and a heavy duty rubber mats. These snuffle mats are dense and thick making the search for goodies challenging and fun. Cats also enjoy using snuffle mats, so these are great for your feline friends as well!

Think Smart Dog Training puts a great deal of emphasis on enrichment for our pets to keep them happy and mentally healthy (which we know makes their people happy too!). Providing dogs and cats with species-appropriate enrichment provides mental stimulation, helps to reduce stress and anxiety, and can be surprisingly tiring! 

Mats have a 12" x 12" rubber base. With fleece they average about 15" x 15" and are about 4-5" tall at their fluffiest. See our FAQ page for care instructions.